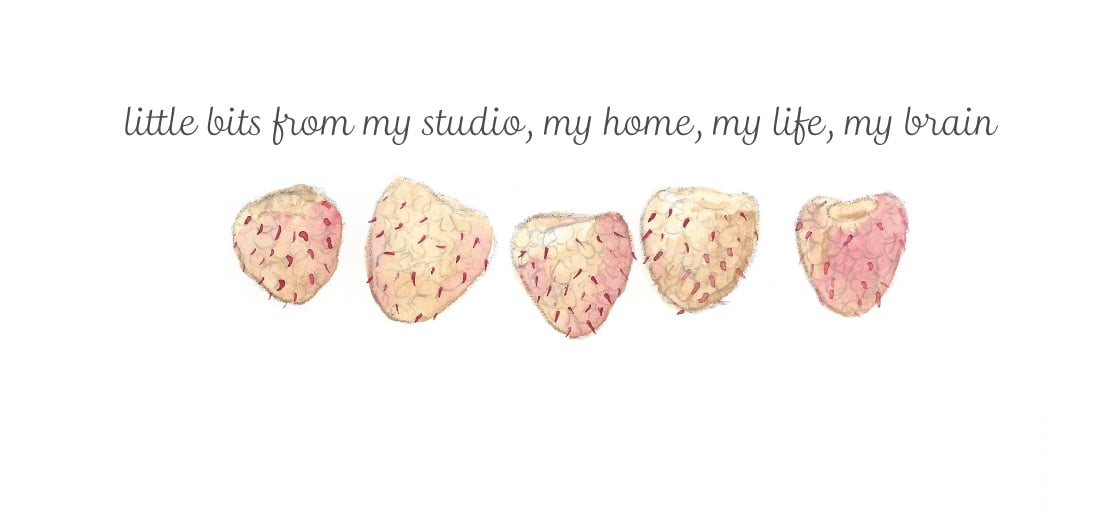 Blog
little bits from my studio, my home, my life, and my brain
Filtering by Tag: bookmark
this year for valentine's day, my boys made bookmarks for their classmates. i know, i hope they don't get booed out of the class! but, really, they are adorable and with block printing on paper, you can make many things: cards, gift tags, framed art, gift wrap, garland... the beauty of this method is that it's safe for little guys and girls who aren't quite ready for working with a sharp carving tool as used on wood, linoleum, or an easy-carve block. we used a 9 x 12 foam board purchased from a local art supply store, flax. they were 12 for $6.99, which i thought was pretty reasonable. ok, here we go.
supplies: foam board marker small paintbrush or dull pencil block printing ink brayer printing paper wooden spoon / roller / your hand
to make bookmarks or tags, you will also need: paper cutter hole puncher ribbon
using a marker, my 5-yr old, let's call him mr. j, filled his foam board with heart shapes (1). we knew we'd be cutting these down into our desired bookmark size, so we needed a design that would make sense as pieces, versus a whole. next, we used the end of a fine paintbrush to press down over the lines, more or less (2). we also tried using a dull pencil, which was easier, as it slid more smoothly across the foam. any foam that is pressed down, will not get ink and therefore will be the color of your paper. mr. j only did the outline of each heart.
time for inking! we prepared our ink as described in the earlier post, mr. o makes a block print. once ready, an even-ish layer of ink was spread across the entire board using the brayer (3). i placed the paper, also 9" x 12", over the board and mr. j used a rolling pin to apply pressure (4). the back of a spoon works, as does your hand. then, mr. j hid under the table in nervous excitement for the end result (5). i slowly but steadily removed the paper from the board. so cute! we made enough sheets for all the bookmarks we needed, plus one extra for framing.
the next day, i trimmed the sheet down to bookmark size, which i scientifically concluded was 2" x 6". i used a guillotine cutter. you can use a paper trimmer, scissors, whatever you have available. giving credit where credit is due, it was mr. j that pulled out the 3-whole punch. talk about efficiency (6)!
in lieu of signing each one by hand, i taped together little letter stamps to form the words "from jack" - now we know his name. this worked well (7). i had on hand, a beautiful cotton ribbon that was used to top off the bookmark and voila!
i think they are adorable! i punched a smaller whole into the scraps and made gift tags using red and white baker's twine. so cute.
happy printing! and happy valentine's day!